The History of Bone Inlay
The time-honoured art of bone inlay originates from the picturesque region of Rajasthan, India. Originally handcrafted for the royal palaces of Rajasthan, Maharajas commissioned the work of these exquisite pieces.
Handed down from generation to generation, this ancient technique consists of a three-step method. To begin, the intricate fragments of ethically sourced buffalo bones are hand-carved into unique shapes that are used to create the furnitures bone inlay design. These bones are then affixed onto the base of the furniture and form a mosaic-like design. Lastly, resin is used to fill the space around the bone and finished.
This handcrafted and ancient technique, coupled with the use of natural and organic materials, results in a product that is completely unique. Each piece has a unique story, it's own history and a master craftsman that is proud to offer a beautifully finished bone inlay piece that is like no other.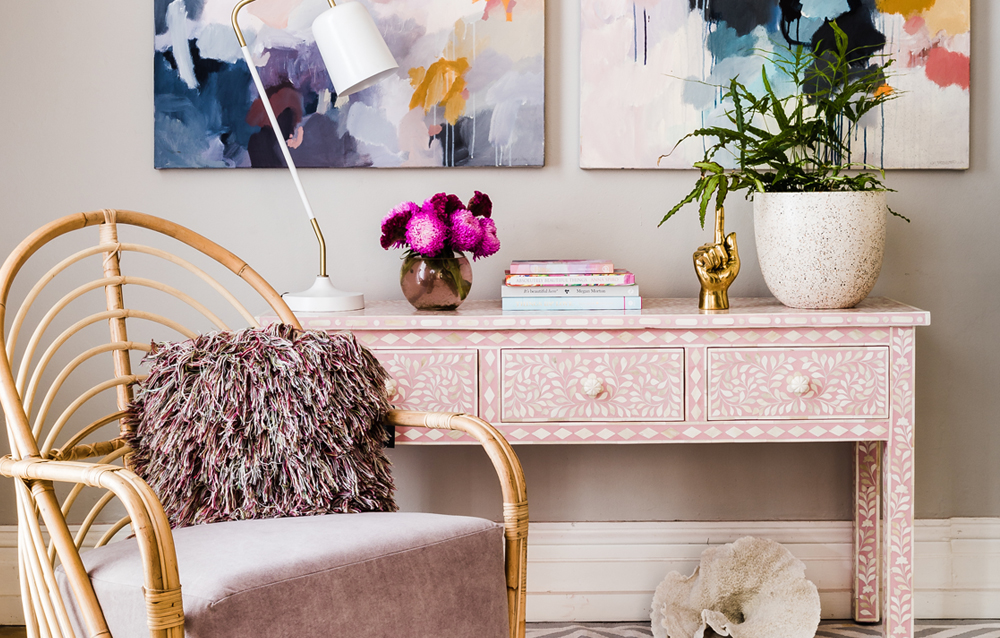 Fenton & Fenton
Lucy Fenton's life of extensive travel led her to India where she was captivated by the unique beauty and complexity of the artisan craft.
Today, Fenton & Fenton's exclusive collection of Bone Inlay ranges from practical storage solutions through to stylish statement pieces, including consoles, commodes, sideboards, side tables, bedside tables and decorative trays.
Our bone inlay collection has been crafted from ethically sourced buffalo bones in India.
Available in the prettiest of hues, bone inlay pieces are the perfect way to introduce a little colour into your home.
Care & Maintainence
To care for bone inlay, dust regularly and do not place in direct sunlight. If spills occur, use a soft, dry cloth to absorb liquids immediately.
Do not use abrasives, caustic cleaners, waxes and polishes on the bone inlay surfaces.